via
Pan-seared Scallops
4 large dry scallops
salt
pepper
2 tbsp olive oil
1 1/2 tbsp butter
1/2 cup white wine
"Pat the scallops dry with towel or paper towels. Sprinkle salt and pepper over the scallops (both sides). Heat olive oil in a frying pan (don't use non-stick) over high heat. When oil is hot, place the scallops in the pan with at least one or two inches between them (so they don't crowd and steam one another). After two minutes, the base should be browned nicely. Flip the scallops and cook for another minute or until base is browned. Remove from heat and set on serving dish(es). While still on high heat, drop a pat of butter into the pan. Move the pat around the pan until melted completely. Pour in the wine and use a whisk or spoon to scrape the fond from the pan and stir it into the liquid. Leave the heat on high and let the sauce boil until it reduces to desired consistency. Immediately remove from heat and serve with scallops."
recipe via
use real butter
Are you drooling yet? This is what I cooked one night for supper last week and it turned out just like this.
Ha, what a joke!
I will say these scallops were absolutely delicious but I burned the hell out of the sauce. She mentions putting your pan under a ginormous flame-meaning crank it as high as it would go. Lets just say don't do that with a cast iron skillet. 3 smoke alarms alerted us the house must be on fire due to all the smoke. So as you can imagine, we ended up with a "burnt butter sauce". I ditched that and started over on a lower heat. Not quite like the one above but it was delicious nonetheless!
I served them on a bed of grilled zucchini and yummo!!!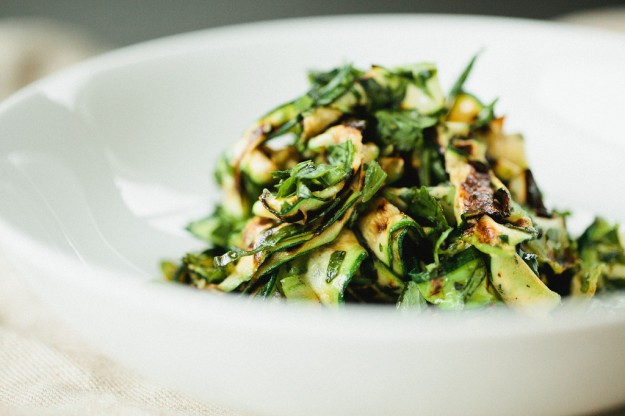 via
Grilled Zucchini Salad
serves one
2 small zucchini
1 Tablespoon olive oil
3 Tablespoons fresh herbs, chopped (I used basil, mint, tarragon, and cilantro)
salt and pepper
lemon juice
"Using a mandoline (or a steady hand and sharp knife) very thinly slice the zucchini.
Toss the zucchini in olive oil and salt and pepper.
On a hot grill pan or indoor grill, sear the zucchini until dark marks appear, about 30 seconds. Flip over and repeat on the other side.
Toss the grilled zucchini in a bowl with the fresh herbs and a hefty squeeze of lemon. Taste and add more salt if needed."
I will definitely give both these recipes a whirl again!
So what have you been cooking lately? I want to hear!
Is it just me or has everyone ditched their cookbooks for recipes on
Pinterest
(that's where I found both of these)???!!!